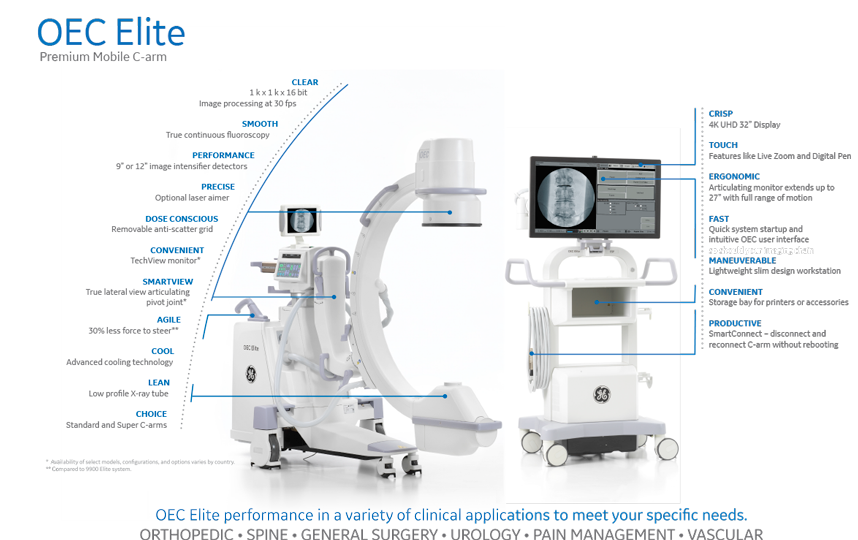 Renowned Image Quality.
Innovative Features.
The combination of innovative and foundational imaging features available on OEC Elite empower surgical teams to adapt as changes occur. Trusted features assist in capturing images rich with clarity and detail:
Innovative Features
Live Zoom up to 4X original size, pan to area of interest, and image in zoomed setting with no change in technique
Digital Pen allows drawing directly on screen, with lines that remain persistent on live image
Measurement and annotation tools to assist in procedure planning
Reference Image Hold for quick comparisons
Automatic imaging profiles, including General HD, help accentuate critical anatomy
Foundational Features
Smart Metal automatically adjusts brightness and contrast when metal is present in the imaging field
AutoTrak Automatic Brightness Stabilization (ABS) identifies and focuses on areas of interest
Minimal difference spatiotemporal noise filter (MDST) suppresses noise for definition and clarity
Real-time general purpose dynamic range management (GDRM) accentuates critical anatomy and attenuates background tissue
Articulating Monitor
Large, Crisp Display.
Enable surgical teams to see more information easily without straining. High resolution monitor shows large displayed images to see fine details:
32" ultra-high definition 4K display
Large 12.4" dual displayed images
Bring display closer with 27" forward travel
Flexible viewing with display arm featuring 5 articulations